Religious Youth Service Project in Rustic, Spacious, and Quiet Trinidad
Written by Prunella Mungroo
Wednesday, August 19, 2009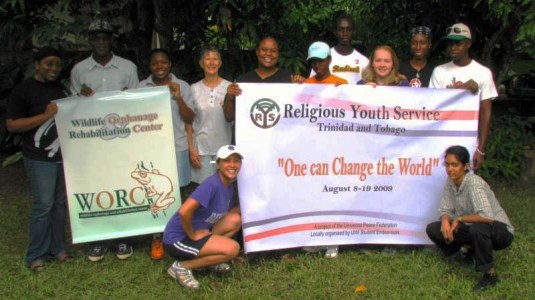 Petit Valley, Trinidad - RYS Trinidad 2009 was a project targeted to work with the not-for-profit Wildlife Orphanage and Rehabilitation Center in Petit Valley August 8-19, 2009. The Center was in urgent need of maintenance and repair of its grounds and animal cages.
While in Trinidad, participants also worked with the St. Vincent de Paul Society's Home for the Aged, where volunteers helped feed and care for the elderly residents at the home.
Our main theme for the project was "One Can Change the World." RYS Trinidad 2009 received interested youth participants from the United States, St. Lucia, and Guyana as well as from various parts of Trinidad and Tobago.
Prunella Mungroo from Trinidad, our main Educator/Trainer, inspired participants with her lecturettes. Guest educators included Project Director Georgia Pearson and Project Coordinator Maurice Burke.
The youth volunteers did an excellent job at the Wildlife Center, clearing the grounds and performing general repairs on the center. The founder of the Wildlife Center was elated with the service time that the participants gave and looked forward to future projects.
RYS Trinidad included visits to religious sites such as Mt. St. Benedict Roman Catholic Cathedral and the Spiritual Baptist church, and other places of cultural interest and significance including the Port of Spain Waterfront, Fort George, Las Cuevas beach and the Emperor Valley Zoo.
Quiet reflection took place at Guayaguayare, a village in South East Trinidad. During morning reflection, the participants walked along the beach side, and the reflection period ended with a sunrise journaling session. What made this trip special is that the participants had the opportunity to enjoy the rustic, spacious, and quiet settings of Trinidad.
August 8-19, 2009
If you find this page helpful and informative please consider making donation. Your donation will help Universal Peace Federation (UPF) provide new and improved reports, analysis and publications to you and everyone around the world.
UPF is a 501(c)(3) tax exempt organization and all donations are tax deductible in the United States. Receipts are automatically provided for donations of or above $250.00.
| | | |
| --- | --- | --- |
| Donate to the Universal Peace Federation: Your donation to support the general programs of UPF. | Donate to the Religious Youth Service (RYS): Your donation will be used for service projects around the world. | Donate to UPF's Africa Projects: Your donation will be used for projects in Africa. |